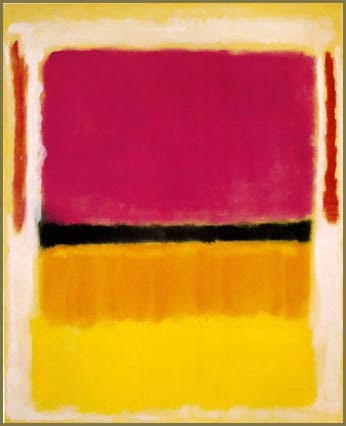 Step 3:
Spend the next ½ hour or so familiarizing your self with the artist and his or her work. Choose 1-3 paintings on which to turn your focus.
By Monday at 3:00 p.m.
, you will post three pages (
1000 words
) on these paintings
on your blog
. See Step 4 for hints and practices for writing on art; how to turn an image, even the most abstract, into written discourse.
Choose 1 – 3 paintings and try to describe them to the best of your ability. Paint a replica of the image with your own words. Can you make your reader "see" what you are seeing. This is an important step in the process of writing this research paper for a few reasons: First, you will need this descriptive writing in your essay to aid your analysis. Second, you will learn things about the piece of art by forcing yourself to stare at it with the attention needed to describe it. Last, what you see may be different from what others do, not just the abstract work, but what are your eyes drawn to first? You will never be able to get this moment back--what your eyes noticed when you were first drawn to the painting / or piece of art. You will also need this writing when you start to compile your formal research paper.
"Helpful Hints" to enhance your descriptive powers:


Spend as much time as possible "free writing" about the image prior to doing any research. You can always edit this down if you feel that the writing is stale or redundant. Free writing is best done with fresh eyes as a first response, and can be edited after you know the image well. This can be tedious if you are in the middle of trying to arrange your argument and realize your paper is just not long enough.

When describing colors, expand your vocabulary. There is no such thing as pure yellow. Maybe you mean lemon yellow or canary yellow or cadmium yellow or saffron. Check out these colors for ideas, but stick to colors that your audience will be able to visualize. For example, I can't picture alice blue, but I can picture aqua and royal blue.

If the image is particularly abstract, focus on the emotions that the artist is trying to express. Do the lines create a sense of movement? Does the painting seem to speed up time, or slow it down? Ask your self creative questions and answer them.